The Future Is Bright Week
Students and Staff Focus On Mental Health and Positivity
"The Future is Bright Week" is a mental health awareness week with a different theme each day for FWISD students and staff to bring awareness to mental health and the resources offered throughout the district. FWISD has done a great job of providing resources and funding to help emphasize the importance of mental health awareness.
Going to a trusted adult can be hard, but they are here to help. The Future Is Bright Week is centered around helping kids with finding resources to help them with their health. Now more than ever people need these resources to help them with their mental health. Thankfully, that is what The Future is Bright Week is meant for.
If you or someone you know is struggling and is thinking about hurting themselves on the back of your student IDs there is the National Suicide Prevention Hotline and the Crisis Hotline. You can also talk to your parents or family members about it, or if you want you can talk to one of the many school counselors.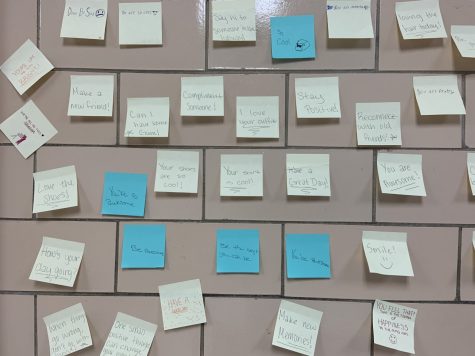 It is okay not to be okay, and there is help available. At McLean, students from Youth Voices 4 Change have posted hundreds of sticky notes with positive messages all over the school. Take what you need or share with someone you think could use an uplifting message.
"The Future Is Bright" week runs September 27 – October 3, and the themed dress days are as follow:
Monday:  Wear Green for Mental Health Awareness!  Post Positive Notes around the school and on lockers! Share the Love!
Tuesday:  Be A Lifeline make school banners and take pictures with the hashtag signs.  Flood social media with pictures of #tag signs and banners.
Wednesday:  Wear purple or teal to support suicide awareness.
Thursday:  Team up Against Suicide (wear your favorite team shirt).
Friday:  The Future is Bright! Wear College T shirts, Tie Dye Shirts and Bright Colors with Sunglasses.