MARCHING BAND at McLean?!?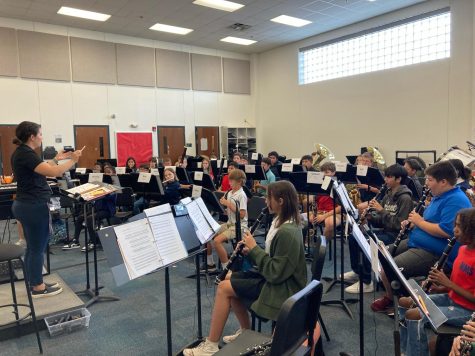 At normal middle schools, marching band hasn't started yet, but that's different at McLean! This fall, the McLean band, directed by Ms. Martien and Mr. Gandy, will be performing with the Paschal marching band at Paschal's homecoming game! This event, called Paschal band night, will be held September 16th. Not only will McLean be playing with Paschal, but the McLean 6th grade beginners will also participate. Last year, one of the songs played was "Eye of the Tiger" by Survivor.
Jude Park, who plays trumpet in wind ensemble, says "I'm hesitant for it, because my parents say that it's a lot of work". Briel Meadows, a flautist in wind ensemble, says "It's really fun and exciting! It's like a new way to enjoy band". Ella Williams, who plays french horn in wind ensemble, says "I am excited to reunite with the eighth graders from last year and to get the experience for next school year, but I am nervous for the heat!" And finally, Cate Werth, who will attend the game, says "I'm very excited to see how the high schoolers perform with the middle schoolers. I think they will sound really good and i'm excited to see Paschal play!"
This year, the band will be playing some one-liners, such as "Let's Go Band" and "Iron Man"! They will also play "Seven Nation Army", and "Red Bird Rumble", the McLean fight song! It may seem unusual for middle schools to play in marching band, but it is actually very common for middle school bands to participate in activities with their feeder high school, such as this one. Paschal will be playing North Crowley High School at 7 pm for their homecoming game, so anyone and everyone is encouraged to go!
The McLean band is also expected to play at half time during some MMS football games, so stay tuned!