New Teachers' Lounge Stuns Thanks to Donation From Ikea of Grand Prairie
For the last six years, the faculty and staff of our school have had no space to work as a team, share resources, and get together as colleagues. However, that has changed thanks to an incredible show of support from IKEA of Grand Prairie.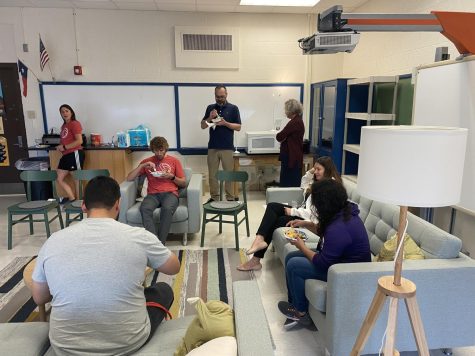 Ryan McNicol, Chava Nuckols, and Muriel Cowdin interviewed Ms. Valerie Martinez of IKEA asking questions on how and what she did to give us what we have for the new teacher's lounge.
Proceeding into the questions, we asked "How did you make it possible to donate the furniture to McLean?" Her response was very honest and has a positive approach quoting "We received a request from Mr.Torres asking if we might be able to help furnish their empty Teacher's lounge. His letter was very thoughtful and compelling, so our team really dug through our budget to see what was possible. We originally hoped to help with seating, but we ended up with resources to furnish the entire room!"
 While our group read aloud this meaningful message, we thought about how this wouldn't have been possible without Ms.Martinez's help and we are thankful for her! 
 Moving on to the next question, we wanted to know what other schools have been the recipient of this kind of donation. Her reply said "Although we do celebrate teachers with a VIP Teacher Celebration Event in July, this is the first time we have donated furniture directly to a school faculty team. 
 We were astonished by this reply because McLean was very lucky and grateful for IKEA, making this a surprise because it had seemed like they had done this before! And we are glad we were the first school to be able to experience that. 
On the last question we asked " Why were you so generous with furniture and the support of IKEA to our middle school?" 
 Her response left us flabbergasted; "At IKEA, we're on a mission to create a better everyday life for people all over the world, we take our responsibility seriously in the local communities we are in! We understand that teachers play a BIG part in helping our communities grow and felt that this was an excellent opportunity for IKEA Grand Prairie to give back. Mr Torres inspired us to create a space where McLean teachers could re-enter the 21-22 school year with a place to talk, eat, grade papers and most importantly relax during the day and we hope our team was able to accomplish that!"
 As you can see, her team was extremely pleased to work with us at McLean. Through this action of a kind-gesture we are thankful to IKEA and their team for donating these beautiful pieces of furniture to the new Teacher's Lounge!